Create Something Magical Readers & Writers Conference
Saturday & Sunday, March 21-22, 2015
at the The Renaissance Woodbridge Hotel
I'll be presenting two workshop with authors Corinna Lawson and Deborah A. Bailey:
Love In A Galaxy Far Far Away (Readers Track) and

Why You Don't Have To Be A Rocket Scientist to Write Science Fiction (writers Track). You must be signed up for the conference to attend the workshops. I will also be signing at this multi-genre conference bookfair (free to the public).


I will also be on a few panels at the RT Convention in Dallas May 12-17, 2015
The Art of Killing Your Characters with Catherine Bybee, Rebekah R. Ganiere and Scott Silverii, Ph.D (Chief of Police)
Sci-Fi: The Strangeness Budget — Overloading on Weird
With Ilsa J. Bick, Pauline Baird Jones, Lydia Kang, PJ Schnyder (aka Piper J. Drake)
Practical Self-Defense for Writers and Their Characters
With Cathy Tully
Intergalactic Bar & Grille – RT's only sci-fi party. Win prizes! The first 200 crew members to report for duty get goody bags loaded with swag.
You can also find me in Club RT at 1:30 on Friday and signing books on Saturday at the Giant Book Fair (Free to the public)
---
October 17–18, 2014
NJRW Put Your Heart in a Book Conference
Saturday, October 18th:
10:15am – 11:00am  Workshop:  Looking For Action? Writing Believable Fight Scenes
4:00pm – 5:30pm    Literacy Book Signing
Book Signing is open to the public. No admission fee.
Renaissance Woodbridge Hotel
515 Route 1 South, Iselin NJ 08830
July 23–26, 2014
Romance Writers of America®
34th Annual Conference
I'll being giving a workshop and signing books at the San Antonio Marriott Rivercenter & Marriott Riverwalk in San Antonio, TX.
Practical Self-Defense for Writers and Their Characters (RESEARCH)
Speakers: K.M. Fawcett, Cathy Tully, and Rayna Vause
Three martial artists and published authors demonstrate practical self-defense techniques a person (fictional or real) can use to protect him/herself if attacked or sexually assaulted. Find out different ways to escape or fight back (depending on your character's knowledge and skill level), and get tips for writing believable action scenes. Audience members will have a chance to offer scenarios from their works in progress for the presenters to exhibit possible outcomes.
June – Book Obsessed Chicks Beach BBQ Bash
May  – RT Booklover's Convention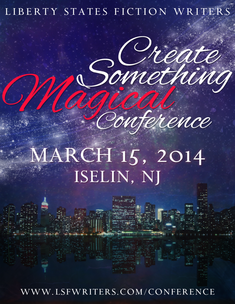 I'll be signing Captive and Fearless at the
5th Annual Create Something Magical Writers & Readers Conference

Saturday, March 15, 2014
at the The Renaissance Woodbridge Hotel
(515 US Highway 1 South Iselin, NJ 08830)

If you are a writer or a reader check out this multi-genre conference featuring Keynote Speaker Sherrilyn Kenyon! There are excellent panels for both readers and writers, plus opportunities to pitch your book to agents and editors. I hope to see you there!
OG Surf and Skate will be hosting several  New Jersey authors at its Endless Summer Beach Reads Event
Saturday, March 1
from 7:00 to 9:30 pm
OG Surf and Skate
West Grove Square Shopping Center
39 S. Main Street, Neptune, NJ 07753
www.ogsurfandskate.com
Join K.M. Fawcett and six other published authors, from NY Times Bestsellers to a debut author, who will share the inspiration for their novels, sign books, and mingle with readers over wine and cheese.  Many of the novels are set along the Jersey Shore, making this an even more special event for readers who will recognize many of the locales mentioned in the novels, including location in Asbury Park, Avon-by-the-Sea, Bradley Beach, Ocean Grove, Seaside Heights and Spring Lake.
I'll be at The Paperback Exchange in Belmar, NJ this Sunday, August 4th from 11-2 signing copies of CAPTIVE. I'd love for you to stop by and say hi! The store is located at 703 1/2 Belmar Plaza (West end of Ninth Ave).
July 17, 2013 – I'll be signing CAPTIVE at the Literacy Book Signing at the RWA Conference in Atlanta, Georgia.
CAPTIVE Extended Blog Tour   June – July 2013

June 3    SMEXY Books                       Interview
June 3    Babette James                      Guest Post – Self Defense
June 3    Attacking The Page              Blog Tour
June 4    Night Owl Reviews               Interview
June 5    A Buckeye Girl Reads          Q&A
June 5    Caridad Pineiro                     Excerpt & Fun Facts
June 6    Paranormal Romantic Suspense Reviews        Guest Post – Martial Arts & Captive
June 6    My Book Addiction and More               Interview
June 6    Attacking the Page               Thank you
June 7    Paranormal Haven               Guest post – Captive: Behind the Scenes
June 8    The Qwillery                          Interview
June 10  Wild Women Authors         Character Interview
June 17  Ex Libris                                 Fun Facts & Excerpt
June 19  Star-Crossed Romance       Guest Post
June 20  Fantasy, Futuristic, & Paranormal        Writing Fight Scenes (part 1)
July 8      Fantasy, Futuristic, & Paranormal        Writing Fight Scenes (part 2)
TBA         RT online                              Article & Excerpt